Turf
Dry Fertilizers
Since 1997, Howard has been committed to providing the Turf and Ornamental market with prescription formulated fertilizers. In fact, that is our specialty. We utilize more than 250 high quality fertilizer materials all sized in-house specifically for the application you want to make. Furthermore, Howard is proud to offer these quality fertilizer blends coupled with the fastest turnaround time in the industry.
Our state-of-the-art blending facility in Groveland FL features 3 mills equipped with 8 simultaneous production bagging lines. Our insecticide and herbicide production lines are isolated to prevent contamination. Each bag line is easily able to produce 100 tons of product per line, per shift, per day.
Through every stage of the blended process, steps are taken to ensure the quality of the fertilizer product meets and in most cases exceeds our customer's needs. From 1 ton to 1000's of tons, we are prepared and equipped to service you!
Polyworx™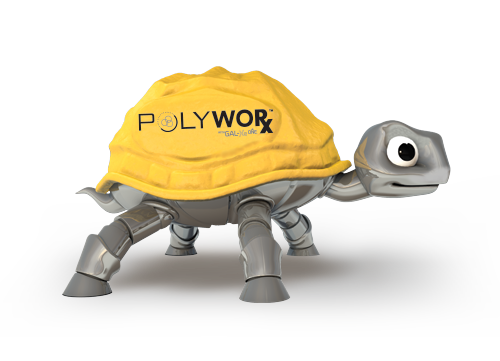 Polyworx™ is the newest technology in slow release polymer coated fertilizer. Polyworx is a component product designed to allow you to precisely target the release of nutrients to the exact time when your landscapes require it.
Depending on the amount of GAL-XeOne™ polymer coating that is applied to the sulfate of potash, you can expect to receive a slow and steady release for optimal growth.
Polyworx fertilizer offers many winning benefits like: promoting root growth and wear tolerance, enhancing plant maturity and disease resistance, minimizing leaching and helping establish a durable turf foundation.
To find the right type of yellow Polyworx product to maximize the green in your pocket, click here. 
N-P-K Fertilizers
Quality and Performance is what you expect from your fertilizer. At Howard we have the process to provide just that for you.
Howard AccuBlend™ is our process of blending prescription fertilizers for the Turf and Ornamental professional. By blending the highest quality ingredients and the latest material technologies through our technically advanced, computerized declining weight system; you can be certain the fertilizer blend you receive will perform as expected.
We are proud to employ over 250 fertilizer ingredients from the latest slow-release materials to dozens of minor elements and everything in between. These materials are treated and screened at receiving to begin the process of providing fertilizer blends that provide the distribution uniformity you require for the results you desire.


Combination Fertilizers
Howard ProFusion™ is a proprietary, state-of-the-art, heat-infused coating process we apply to ourAccuBlend™ fertilizer mixes. Our state-of-the-artequipment will provide you with the most accurately blended products in the industry.
The Select Products
During fertilizer application, a precision coat of liquefied technical product is applied to every angle of each fertilizer particle blended during the AccuBlend™process. While every Howard mix is an AccuBlend™mix, only a select group of technical ingredients can beinfused utilizing our ProFusion™ technology:
Ronstar (pre-emergent herbicide)
Bifenthrin (multi-purpose insecticide)
Pendimethalin (pre-emergent herbicide)
Dimension (pre-emergent herbicide)
LockUp (herbicide)
Our Pinpoint Accuracy
With Howard ProFusion™, we are able to accurately meter and apply liquefied technical products in a controlled environment to our AccuBlend™ fertilizer. This allows us to be extremely accurate and in control at the time of application.
Heat-Infused
Precise Even Coverage
Liquid application accurate within .01% of a gallon
Our No-Dust Plan
Howard ProFusion™ allows liquefied technical product to coat and dry evenly around each fertilizer particle. This ensures the technical product stays adhered to the particle during bagging and transport virtually eliminating any dust in the product.
The Results
Immaculate turf
Improved weed control
Even color
Uniform texture
More even application of pesticide on each granule
Enhanced distribution of product across turf area
No globules
No hot spots
Water Soluble Fertilizers
All Howard water soluble fertilizers are manufactured in a dedicated facility that prevents introduction of insoluble contaminants into the mix. Careful consideration is given to each material from the point of purchase to the point the product is bagged to its prestine state. At Howard, we are proud of our ability to custom formulate granular water soluble fertilizer blends to meet our customers specific needs.